Sneaker shoes cleaning cloths Quick Wipes
Sneaker shoes cleaning cloths Quick Wipes
True to the motto "These boots are made for walking", we wear our favorite shoes in all weather conditions - only annoying when they are quickly soiled by dirt or mud. No problem with our Quick Wipes sneaker shoes cleaning cloths.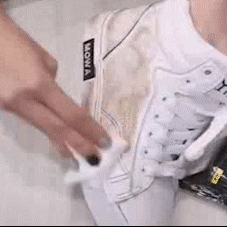 Quick and easy cleaning without darkening your shoe or drying the leather
With our sneaker shoes cleaning cloths Quick Wipes you can get your shoes clean again quickly and without damaging the material. Whether sneakers, leather or suede shoes - with our Quick Wipes cleaning cloths you can easily remove particularly stubborn dirt or deep-seated dust and dirt.
Versatile and particularly durable
While other cleaning cloths dry out quickly and then lose their cleaning effect, our sneaker shoes cleaning cloths Quick Wipes are individually packaged to maintain the moisture content and cleaning power. Our Quick Wipes are also ideal for cleaning your leather bags, purses or jackets.
100% FREE SHIPPING AND SATISFACTION GUARANTEE
There are no shipping costs for this product. We often have the product shipped to you directly from the manufacturer, without shipping costs. Due to the longer delivery route, shipping sometimes takes a little longer. But you buy from us at an unbeatable price. If you do not like the product, you have the option of sending the product back to us within 14 days and you will receive the full purchase price back.
100% FREE SHIPPING
14 DAYS RETURNS
DELIVERY TIME: 20 TO 30 DAYS
SATISFACTION GUARANTEE
WORLD CLASS CUSTOMER SERVICE
SECURE ORDER PROCESSING